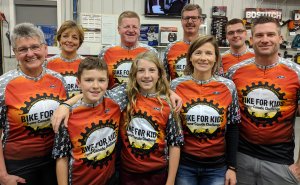 These amazing people all raised $500+ each for Bike for Kids in Altona! The young guys in the front raised $2500 and $2450 each! All to support mentoring relationships and programs.
Each person received these custom biking jerseys as a thank you for their hard work and support.
A BIG thank you to Time Out Sports and Canadian Lumber for sponsoring the jerseys.
And thank you to Dwight Neufeld (front right), mentor and event planner extraordinaire and Kerri Bennett, mentoring coordinator for their hard work in planning and running the event.
Through the event we were able to raise more than $13,000.